"Why Quilts Matter" Speaks to Students at Spalding University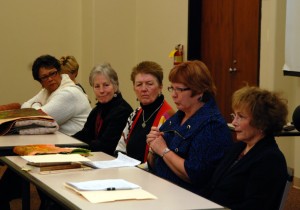 I was delighted to showcase an episode of Why Quilts Matter: History, Art & Politics (Episode 7, "Empowering Women One Quilt at a Time") and moderate a panel discussion on quilts as cultural metaphors at Spalding University this week. The event was organized by Spalding Professor of Art and Huff Gallery Director Joyce Ogden, MFA, and the audience was comprised of students in a history class "From Reconstruction to the Present" taught by Dr. Patricia Dillon and community members. The panel consisted of three Textile and Fabric Artists (whose exhibition "Rooted in the Earth" was showing next door in the Huff Gallery (Pat DaRif, Joanne Weis and Valerie White), Executive Producer Shelly Zegart and Author Linda Beattie.  (For more information about the exhibit and each guest speaker, please take a look at the "Rooted in the Earth" press release.)
Why is it important that the series is shown in universities you may ask? Well, the last big revival of quilting was in the late-1960's, so it's time to engage a younger audience whether that means prompting them to quilt, or just getting them to think differently about quilts and their centrality to American society. When the students were asked if they quilted few hands went up, but after watching Episode 7, "Empowering Women One Quilt at a Time," and hearing from the artists, it was great to see a spark within the students. They wanted to know what ran through a quilter's mind when he or she works on a project, and whether or not the artists had passed on their skill to their children or grandchildren.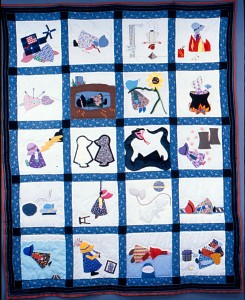 The students chuckled at the portion of the episode which discussed the "Sun Sets on Sunbonnet Sue," and their faces went solemn when the AIDS quilt was explained. The artists shared a few pieces of work that incorporated panels from other women in their families as well as quilts that spoke to larger issues like global warming. Author Linda Beattie gave added her insight into women empowerment telling a story of a group of female inmates in Kentucky who designed a quilt that showed the brutality occurring within prison walls. The quilt caught enough attention to get a few paroled.
Overall, we hope the students walked out of the classroom with a new view on quilts. The Why Quilts Matter team will continue to reach more young people in fresh new ways. Stay tuned and be sure to let us know your thoughts on how to engage a new generation of quilters in the comments section below or on Facebook and Twitter.
We are always looking for new and different locations to put together panels and screening.  Please be on the lookout for us and get in touch with us if you are interested in hosting a panel at your school, college or university.
– Shelly Zegart
→ See all images from Episode 7, "Empowering Women: One Quilt at a Time" in Episode 7 Image Resource Guide.
→ View all  Image Resource Guides
→ Preview Episode 7, "Empowering Women: One Quilt at a Time"
→ Read "Rooted in the Earth" Press Release (Spalding University)
More photos from this event at Spalding University:
[AFG_gallery id='4′]
Image credits:
Top:  Image collage from the "Rooted in the Earth" exhibit at Spalding University.  Composed of works from the three artists featured in this exhibit: Joanne Weis, Pat DaRif, and Valerie White.
Left: "Why Quilts Matter" panelists (left to right) – Dr. Patricia Dillon, Valerie White, Pat DaRif, Joanne Weis, Linda Beattie, and Shelly Zegart.  Photo by Ekaterina Balaban.
Right: The Sun Sets on Sunbonnet Sue. Made by Seamster's Union Local 500, Lawrence, KS. 1979. Cotton, cotton polyester blend, velvet, multiple scraps. 62″ x 78″. Photo by Geoffrey Carr.  Formerly in the collection of Shelly Zegart. Collection of Great Lakes Quilt Center, Michigan State University, East Lansing, Michigan. www.museum.msu.edu/glqc. More information at www.quiltindex.org