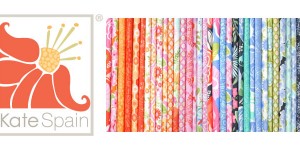 Why Quilts Matter – Question and Answer with Kate Spain
More and more of the 20,000,000 quilters that make up Quilt Nation (Why Quilts Matter: History, Art & Politics – Episode 8) are finding themselves taking a digital approach to quilting. While quilt-designing software is not new, the abundance of resources found on the Internet has multiplied exponentially. Online communities enable far-flung quilters to connect with each other, share their projects and create electronic libraries of patterns, blocks and techniques. Fabric shopping is no longer limited to shops within driving distance. Quilters have their choice of fabrics from all over the world and designers are able to reach a broader audience than was previously possible.
To learn other ways technology has changed quilting, we spoke with Moda fabric designer Kate Spain to explore how her embrace of online communities has influenced her fabric, rug and decorative pillow designs.
Read more