Why Quilts Matter – Question and Answer with Bari J. Ackerman
Next up in our Why Quilts Matter – Discussion Guide Q&A series is Bari J. Ackerman, better known as "Bari J." She is a quilt pattern, embroidery and fabric/surface designer and the author of Inspired to Sew. Her background in graphic design and copy writing transitioned naturally into designing fabric. The Lilly Belle and Splendor 1920 (Art Gallery Fabrics) fabric collections will be followed up by her long anticipated line, Bijoux, available in May 2013. Since her talents encompass so many aspects of quilting, Bari's questions were taken from a variety of episodes examined in the Why Quilts Matter Discussion Guide.
Consider for a moment your personal choices in creating your home environment. What place do beauty and visual pleasures have in your life?
I'd rate it right after health, love and relationships, and family. I think it is related to mental health, frankly.
How can you explain the worldwide popularity and phenomenon of quilt making?
Because the world we live in is so crazy and busy, quilt making is a refuge. Quilts offer beauty, comfort and the basic necessity of warmth. Making a quilt for someone or for yourself is an act of love.
In what ways do quilts reflect their eras, their makers or their communities?
I think quilts reflect their eras, mainly in materials. Trends come and go but techniques are techniques. We may think we are reinventing things but in my opinion, "There's nothing new under the sun." I think the maker of the quilt is highly reflected in the finished object. For me, a quilt says who I am in many ways.
How do you think digital technology will change quilting in the future?
First, people are able to print their own fabric and designs so that makes things interesting. Second, we are able to communicate so fast and see what's out there. Trends are going to change at lightning speed — they already do.
What is next for you?
More fabric and more quilting… and I think you'll see me focus on embroidery more and more as well. I really want to pass that on to future generations. I started embroidering when I was on bed rest for my pregnancy with my second daughter who is now 15. It is my first true sewing love. I love that it can be picked up and taken with you. I love that it's so tactile. My older daughter recently picked it up and is teaching herself from my videos on We Love French Knots.com. It's just my thing. I have a real connection to it. It can really be part of quilting though I haven't combined it much yet. I see myself stopping to smell the roses and going there. I'm passionate about design and sewing. Embroidery brings it together for me far more than creating sewing patterns for bags or kids clothes. (It's) the art of it I think. Makes me sing a bit!
More About Bari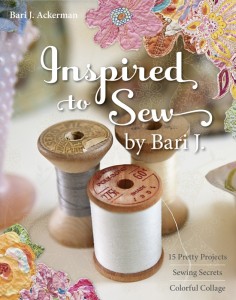 Bari J. is the creator and voice behind the wildly popular website, We Love French Knots. More of her insight and advice on fabric collage, free-motion quilting, embroidery, machine appliqué, piecing, and simple garment construction can be found at Bari J.'s website or follow her on Twitter at @BariJ.