Exhibition Programming Opportunities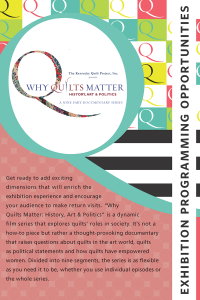 Get ready to add exciting dimensions that will enrich the exhibition experience and encourage your audience to make return visits. "Why Quilts Matter: History, Art, & Politics" is a dynamic film series that explores quilts' roles in society.
It's a thought-provoking documentary that raises questions about quilts in the art world, quilts as political statements and how quilts have empowered women. Divided into nine parts, the series is as flexible as you need it to be, whether you use individual episodes or the whole series.
Download the Exhibition Programming Opportunities brochure in PDF format.