Heart of Country Antiques Show Tickets Drawing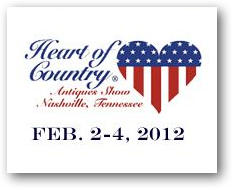 One lucky winner will receive two (2) tickets to the Heart of Country Antiques Show (Feb 2-4, 2012), including access to the exclusive preview party on Feb 2, a value of $120!  For more information about the Show and the Preview Party, please visit the Heart of Country website.
Registration for drawing ends on Jan 28th, 11:59PM. 
The winner be announced on Jan 29th!  We will also contact the winner by email address that you provide in the drawing registration form.
"Heart of Country is proud to be prominently featured in this groundbreaking nine part television series entitled "Why Quilts Matter" from executive producer and founder of The Kentucky Quilt Project, Inc., Shelly Zegart. Ms. Zegart brought her production team onto the floor of the show for a day to interview expert quilt dealers and collectors about the quilts available for purchase and those on display. Along with many other contributors filmed over a two-year process, the results are spectacular and reflect an in-depth and entertaining look at the history, art, and politics of American quilt-makers and quilt-making. In honor of the debut of this series, Heart of Country will present a special quilt exhibit and sale featuring a wide range of beautiful antique quilts collected through the years at the show."  Read more about Heart of Country Antiques Show…
Photos from the Heart of Country Antiques Show, Feb 2, 2012:
[AFG_gallery id='3′]