Why Quilts Matter –
Question & Answer with Roderick Kiracofe
You may have noticed many of the new fabric collections being released these days demonstrate more than a hint of nostalgia for the 60's and 70's. The designs, the colors, the graphic motifs all point back to the era where "mod" and "modern" were the catchphrases of the day.
Quilts made during that time were looked on as "too offbeat" and less significant than historical, pieced quilts. That has since changed, and with the publication of Unconventional & Unexpected: American Quilts Below the Radar 1950–2000, Roderick Kiracofe has made it official.
"The book includes 150 extraordinary, eccentric, and soulful quilts from my personal collection that feel refreshingly modern. In a much freer, more casual and utilitarian aesthetic than their traditionally patterned counterparts, these quilts still demonstrate their place in modern and contemporary art in America."
As Bill Volckening states, "This book ushers in a new era of collecting, a new breed of collector and a whole new genre of quilts."
Roderick has been curating, collecting and writing about quilts for a long time. A co-founder of the Quilt Digest, he served on the first board of directors for the Studio Art Quilts Associates (SAQA). He continues to serve as a consultant to museums, galleries and quilt documentation groups, all while collecting quilts that "broke the rules" and spoke to him as works of art. We spoke with Roderick about the future plans for his collection.
Many museums are now acquiring antique quilt collections, as opposed to individual quilts. Is it important to present the collection in the way the original collector envisioned?
Please tell me which ones (museums); I would like to know! I am aware that several collections have been acquired in the past 5-10 years by various museums. However, my impression is that many museums still do not have the funds or the interest in either adding to existing quilt/textile collections or building them from scratch.
The answer to the second question about presenting the collection in the way the original collector envisioned has to do with the agreements the museum and collector reached when making the acquisition. Again, it generally comes down to money and the funding available to properly store the quilts and to display them. Too many quilts are simply stored away and rarely seen. To have the adequate space and to regularly display them requires funding as well as a good collection to show.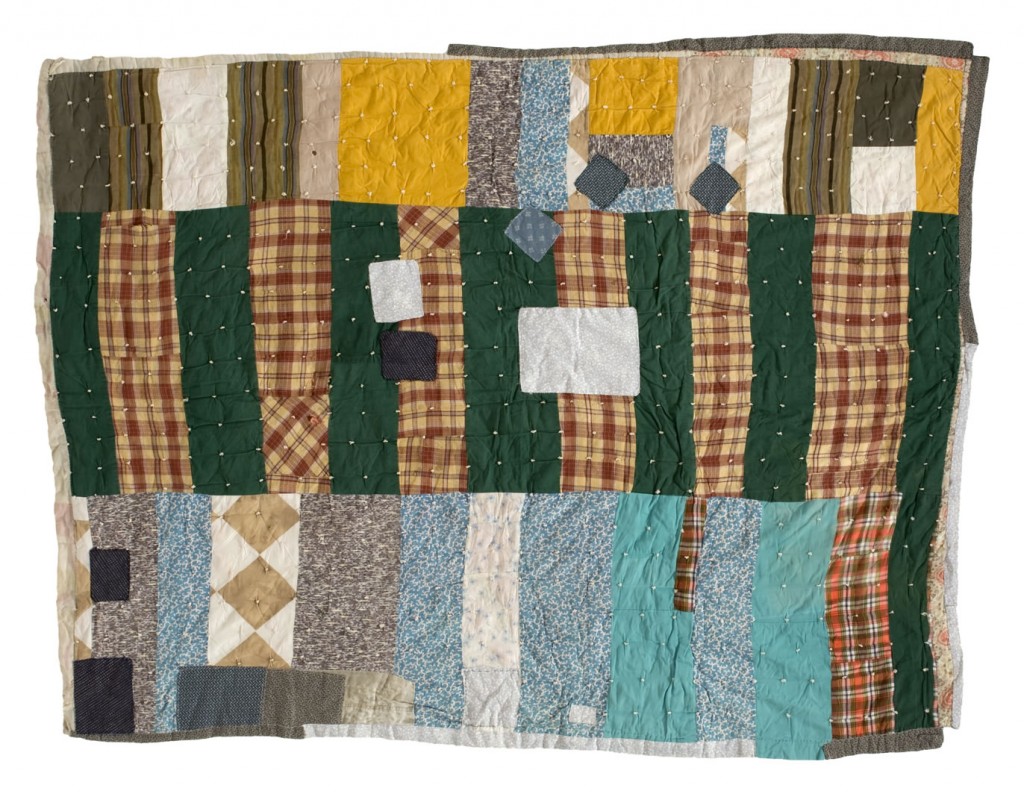 What do the quilts in your own collection say about you?
They say I am curious about quilts. I love quilts: I am not afraid to collect what I like and what appeals to my eye and aesthetic. I am not afraid to take risks and collect what others might not be drawn to or even notice. I am drawn to printed fabrics; I love the wild, whacky, improvisational, and "not-perfect" ones. I like a good unfinished top; I love a quilt with a great backing and will in some cases collect it for the back as opposed to the front.
What is next for you?
My latest book of quilts drawn from my collection, just released by Abrams, Unconventional & Unexpected: American Quilts Below the Radar, 1950-2000. I'm also attempting to find the museum(s) that want to mount the incredible quilt exhibition I am proposing. I'll continue to take pictures, collect anonymous photographs and find creative projects in which to use them, all the time being aware of what I see all around me.
More about Roderick Kiracofe
In addition to collecting quilts and partnering in exhibits, Roderick has authored several books including The American Quilt: A History of Cloth and Comfort 1750-1950, Cloth & Comfort: Pieces of Women's Lives from Their Quilts and Diaries, and several others found here. More information can be found at the Roderick Kiracofe's website.
Photography courtesy Roderick Kiracofe.