History Channel Club: "Quilts Hold Much More Than Warmth"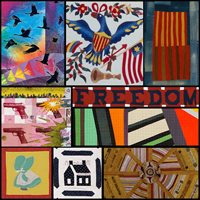 Quilts aren't just for snuggling (though they're good for that, too).
Politics, religion, family, and local history. These topics and more often are hidden among the bright colors and amazing patterns quilters have woven into their projects for generations. University of North Carolina-Chapel Hill history professor William R. Ferris even cites quilts as a metaphor for our shared "patchwork" experience as Americans.
Why Quilts Matter: History, Art & Politics, is a new nine-episode DVD executive produced and hosted by Shelly Zegart, co-founder of the Kentucky Quilt Project (the first state quilting documentation project, established in 1981), and the Alliance for American Quilts. An expert at the forefront of quilt study for more than three decades, she curates exhibitions, presents lectures, and writes on all aspects of quilt history and aesthetics.
With an estimated 21.3 million quilt makers in the United States—and countless others around the world—there are a lot of stories with which to snuggle up.
Originally posted in History Channel Club: Daily Digest, March 1, 2012.