"Why Quilts Matter: History, Art & Politics" on KET2 – Episode 6, "How Quilts Have Been Viewed and Collected"
Episode 6, "How Quilts have been Viewed and Collected" premiers on KET2 next Monday, October 10, at 7PM EST.
The 1920s weren't just famous for flappers and bootleg gin! It was the decade that Americans rediscovered quilts and the era of colonial revival. Collectors and curators in the museum world were suddenly eager to reproduce and celebrate traditional American interiors.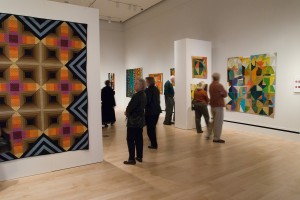 This episode will trace the slow incursion of quilts into museum collections. It may have been an uphill battle at first, but a battle well worth it. Some museums found it difficult to begin collecting objects not validated by the marketplace and with less obvious financial track records. But finally, quilts began to be sold and displayed for their graphic strength and artistic beauty.
I agreed with James Grubola, former Department of Fine Arts Chair at the University of Louisville, when he said quilts were important as art objects, means of expression, and historical records. He eloquently tied it all together by saying, "There are those occasions when all of those things come together and you get a quilt that transcends one category and moves through all those categories. Those are the quilts that hang in museums and collectors seek."
Starting as tools for self-expression, to telling a type of history not found in textbooks, quilts have come a long way. Follow me on this journey as we even trace the path of one extraordinary quilt from my collection as it went from maker to dealer to collector to museum.
Please join us for a discussion on Facebook!
– Shelly Zegart
→ Find out more about Episode 6, "How Quilts have been Viewed and Collected"
→ Image Resource Guide for Episode 6
Image Credits:
Top: Masterworks from the American Folk Art Museum Exhibition, 2011.  American Folk Art Museum
New York, New York.
Left: Nancy Crow: Cloth, Culture, and Context Exhibition, March 2008.  The International Quilt Study Center & Museum, University of Nebraska-Lincoln, Lincoln, Nebraska.