"Why Quilts Matter: History, Art & Politics" KET2 Premier – Episode 3, "The Quilt Marketplace"
Episode 3, "The Quilt Marketplace," premiers on KET2 next Monday, September 19, at 7PM EST.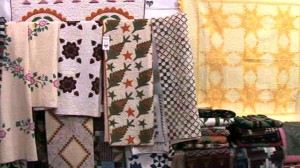 The marketplace for quilts has always been a bit of a mystery. It's hard for most people to understand why some quilts are so much pricier than others, and why some quilts aren't worth anything at all.
The antique quilt marketplace really began in the late 1960's and peaked in the early 1990s when Sotheby's auction house sold the Reconciliation quilt for $264,000! But antique quilt prices began declining in the later 1990's due to reproduction quilts being made in China. However, in today's market, people continue to value and collect antique quilts also with the help of the Internet, which assists with information searches and sales comparisons.
The contemporary market place is also a bit of a mystery For example, contemporary fiber artist Caryl Fallert commented, "It often takes me longer to draw the design than actually constructing the quilt." From quilting and documenting, to taking the necessary photographs to market the product, there are many steps required to successfully sell quilts in the marketplace.
In this episode, "The Quilt Marketplace" we try to take the mystery out of the marketplace for both antique and contemporary quilts. Tune in and hear what our experts have to say.
– Shelly Zegart
→ Find out more about Episode 3, "The Quilt Marketplace"
→ Image Resource Guide for Episode 3
Image Credits:
Top: American Quilter's Society Quilt Show and Contest.  April 21-24, 2010.  B-roll by Stephen Kertis.  www.AmericanQuilter.com
Left: Quilt Booth at Heart of Country Antique Show, Nashville, TN.  B-roll by Alan Miller.