Quilting: Connecting People & Places Across the Globe – by Rosemarie Steele
It's April in Paducah. Spring has arrived early and everywhere you look lush colorful flowers are abloom in downtown garden areas, beautiful quilts grace the window displays in the shops and cafés, the Quilt City USA banners are hung along Broadway and carpenters and city workers are tending to last minute maintenance. Soon more than 25,000 visitors from across the globe will flood the streets of this historic rivertown–nearly doubling the city's population–for the 28th Annual American Quilter's Society (AQS) Quilt Show & Contest, April 25-28.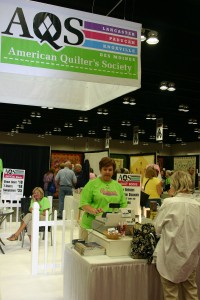 Quilting is the common thread that connects Paducah to people and places across the globe. In her documentary, Why Quilts Matter, Shelly Zegart calls Paducah "The Town That Quilts Built." Paducah becomes a Mecca for quilt enthusiasts during the AQS Quilt Show. The vibrant rebirth of quiltmaking that began in the 1970s continues to gain momentum and shows no sign of decline. Quilting and quiltmaking unites cultures in this Western Kentucky rivertown–linking individuals as the result of their passion for this traditional yet constantly evolving craft.
In 1984, Paducah native Meredith Schroeder founded the American Quilter's Society. Her vision was to promote the accomplishments of today's quilters on a national and international scale and to provide a forum for quilters of all skill levels to expand their horizons in quiltmaking, design, self-expression, and quilt collecting. In the first year, 1,500 quilters became charter members. Today the AQS boasts more than 55,000, with members in every state in the United States and 80 other countries.
The AQS held its first quilt show in Paducah in April of 1985 with an attendance of 5,000 and offering $10,000 for the Best of Show award. Attendance has grown to 37,000 in recent years with quilters coming from all 50 states and 11 countries. Approximately 4,000 quilters participate in the AQS workshops in Paducah each year. Now in its 28th year, the AQS Quilt Show & Contest remains one of the premier international quilting events in the world.
The National Quilt Museum of the United States, located in the historic downtown near the confluence of the Ohio & Tennessee Rivers, is an international museum in a local setting. The Museum embodies the broad spectrum of quiltmaking by showcasing and preserving time-honored traditional designs and methods while simultaneously acknowledging and encouraging the art quilt movement. The Museum averages 40,000 visitors per year from across the country and more than 50 countries.
When the Museum opened in April 1991, its collection contained fewer than 85 quilts on loan from the founders. Since that time, these and many others have been donated or purchased by the Museum, bringing the Museum Collection to more than 300 exceptional works of art and award-winning quilts. In addition to the Museum's Collection, the passion and generosity of Friends benefactors allows the Museum to curate unique exhibits of outstanding quality and to provide some of the finest special quilt exhibits each year.
In Spring the Museum hosts a juried competition exhibit called "New Quilts from an Old Favorite." This international contest challenges quiltmakers to marry traditional block patterns with innovative, contemporary designs. The contest quilts accepted for the exhibit are displayed along side antique quilts of the same chosen pattern. This year's contest exhibit, "New Quilts from an Old Favorite 2012: Baskets," is on display through July 10.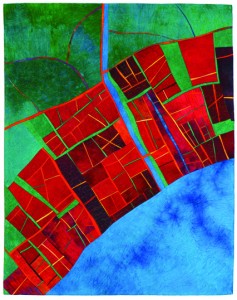 Another special exhibit this month is "accent! Art Quilts of the UK." A quilt in that exhibit, "Seaside Town" by Alicia Merrett from the United Kingdom, is a map like representation of an imaginary town near a river or sea. Intrigued by it's strong colors and similarity to the Port of Paducah, the Visitors Bureau connected with this artist from across the pond, who gave her consent for her quilt to be used for the cover design of the April/Quilt Show Calendar of Events brochure.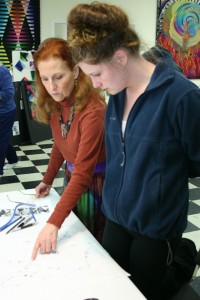 Paducah has developed a reputation as the destination of choice for "creative" types. Thousands of visitors to our community come to be immersed in hands-on experiences and enhance their skills through workshops at the National Quilt Museum conducted by some of quilting's most celebrated instructors like Diane Gaudynski, Sue Nickels, Carol Taylor and others. Caryl Bryer Fallert, one of the most influential quiltmakers in the world, hosts an annual series of workshops at Bryerpatch Studio, her studio/classroom/shop in Paducah's LowerTown Arts District. Her goal as a workshop leader is to help students find their personal creative style. Attendees at Fallert's first workshop consisted of master quilters from Japan who were sent to study with her as part of the Nihon Amimono Culture Association's Nihon Vogue Certificate program.
Paducah is known for its rich heritage, its vibrant historic districts and its commitment to celebrating its past and culture. From thriving historic districts filled with turn-of-the-twentieth-century architecture and one-of-a-kind restaurants and boutiques to its many festivals celebrating everything from quilts to visual arts and food, Paducah is a great destination for any quilter or quilt enthusiast looking for an inspiring experience.
– Rosemarie Steele,
Marketing Director
Paducah Convention & Visitors Bureau
Image Credits:
Photographs published on this page are courtesy of Paducah Convention & Visitors Bureau