Our Best Wishes for a Happy Holiday…and a "Save the Date" for January 5!
As the year winds down, we want to thank you so very much for your continuing support of Why Quilts Matter: History, Art & Politics, and to wish you the very best for a joyous, safe, healthy, and peaceful holiday season–whatever the holiday you celebrate this month.
We also want to alert you to a very special event that will take place at the San Jose Museum of Quilts and Textiles on January 5, 2013. Museum Executive Director Christine Jeffers will interview Why Quilts Matter Exec Producer Shelly Zegart about the series, and guests will have the chance to watch and discuss Episode 4: "What is Art?" For more info, and to purchase tickets in advance, visit the Museum website by clicking here.  We'll have more details for you on the WQM blog on Monday, December 31. Meantime, here's just a small sampling of the amazing quilts you'll see in this special showing.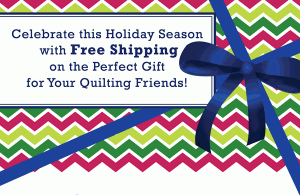 Don't forget: there's still time to take advantage of our special WQM holiday offer. Order the Why Quilts Matter DVD, Discussion Guide, or DVD/Guide package through the WQM website now through December 31, and receive free shipping in the US and Canada. What a nice way to use some of that holiday cash Santa may have left in your stocking this year.
Happy Holidays from "the team" at Why Quilts Matter!