New Jersey Welcomes "Why Quilts Matter: History, Art & Politics"
On Saturday, November 19, 2011, we had a great panel discussion following the screening of "Why Quilts Matter: History, Art & Politics" Episode 2 – "Quilts Bring History Alive" at the Newark Museum in Newark, NJ.  Ulysses Dietz, the Decorative Arts Curator, gave us a tour of their quilt exhibition, Patchwork: From Folk Art to Fine Art, which is currently on view.  Linda G. Nettleton arranged the program and a coffee reception followed.
The panel members included writer Ann Berman who talked about why Episode 2 of "Why Quilts Matter: History, Art & Politics" was important to her as a material culture specialist. Marilyn Henrion, a quilt artist and one of the major stars of the art quilt world, also spoke on the panel and shared her unique perspective and background. Marilyn brought some quilts to show the trajectory of her career. Vadis Turner, a young artist in the series, also sat on the panel and spoke about quilts as concept and currency for women. Vadis uses quilts in her work but does not identify herself as a quilter. She also brought some of her pieces to share.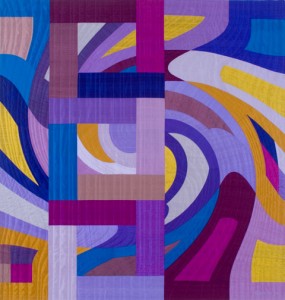 I was lucky enough to serve as the moderator on this panel which incorporated the major themes of the series. The audience was large and very receptive, with lots of questions. If you live in the area and have never been to the Newark Museum you need to make the effort to get there. They have one of the best collections of American paintings as well as quilts, and their holdings number 100,000 objects.
A piece of really exciting news – following the panel discussion, Marilyn Henrion offered the museum one of her works for its collection as a donation.  Ulysses looked at a number of pieces, chose one and it has been accepted into their collection. I'm so pleased that there is an exciting sidebar to our afternoon focusing on the series.
I was also interviewed on Newark NPR and it aired through their weekend show! Thanks to Andrew Meyer and Doug Doyle for that opportunity.
– Shelly Zegart
Image Credits:
Left: Disturbances 8. 66″x68″. Hand-quilted from hand pieced silks. By Marilyn Henrion.
[AFG_gallery id='1′]