Dr. Carolyn Mazloomi Receives One of the National Endowment for the Arts' National Heritage Fellowships

Award winning artist, author and featured friend of Why Quilts Matter, History, Art and Politics, Dr. Carolyn Mazloomi has been named as one of nine recipients of the National Endowment for the Arts' National Heritage Fellowships. Mazloomi is being honored for her efforts to conserve American culture by preserving and imparting African-American history through quilts. Her body of work and her belief that, "Quilts are for much more than keeping people warm, they are historical documents" has led to her reception of the 2014 Bess Lomax Hawes NEA National Heritage Fellowship Award, named after the former NEA director of folk and traditional arts.
Dr. Carolyn Mazloomi earned her Ph.D. in aerospace engineering and spent much of her career as a pilot and Federal Aviation Administration crash site investigator. In the early 1970s, while attending a trade show, she spotted a quilt hanging on the wall and was "drawn to it like a magnet." Completely self-taught, she learned how to quilt from reading instructional books and made her first quilt. She states that it is, and remains, "one of the worst looking quilt I have ever seen."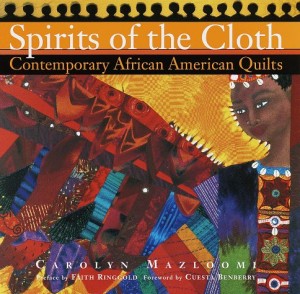 In 1985 she established the WCQN (Women of Color Quilters Network) and it continues to be the preeminent source for networking, workshops, lectures and exhibits for women of color who foster and preserve the art of quiltmaking. Dr. Mazloomi feels the touring exhibition, Spirits of the Cloth, has been one of organization's greatest accomplishments. "Quilts made by Network members have been exhibited across the country bringing serious attention to the artists."
"Quilts are tools of empowerment for women. They are telling their stories through the quilts themselves…the quilts are historical documents… they speak with a soft voice." Mazloomi's work gave other African American "fabric griots" an opportunity to express ties to Africa, familial memories, healing and sacred connections, social and political protests, spiritual praises, and black female empowerment. Mazloomi's scholarship has stimulated the art world to rethink notions of African American quilts and the black aesthetic.
Carolyn Mazloomi in Episode 7, "Empowering Women One Quilt at a Time" of the Why Quilts Matter: History, Art & Politics
While Dr. Mazloomi initially felt the call from the NEA Award Committee was a "telemarketer or some kind of hoax," she has since happily recognized the authenticity of the call and plans to use the financial portion of the award to further the work of the WCQM. Dr. Mazloomi is also the recent recipient of the Lifetime Achievement Award from the Anyone Can Fly Foundation, created by artist Faith Ringgold.
Why Quilts Matter is thrilled to see Dr. Mazloomi honored and recognized for her talent and work in the many areas of quilt history and African American arts. When we spoke with her about the award, she added, "I am deeply honored to receive the National Heritage Fellowship and look forward to curating and writing about quilts made in the African American community."
Along with quilt scholars, artists, and makers everywhere, we offer her our sincere congratulations and best wishes for her future efforts!
– The Why Quilts Matter Team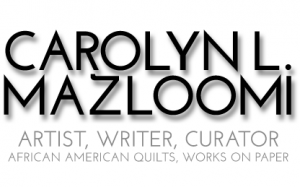 Find out more about Carolyn Mazloomi: visit her website, www.carolynlmazloomi.com.
Image credits: Carolyn Mazloomi (header) – photo by Gale Zucker.