Coffee and Conversation with Shelly Zegart and Vadis Turner
A group of quilt and art enthusiasts gathered last Saturday, November 5th, at The Green Building in Louisville, Ky., to discuss quilts – their role in the art world as well as female empowerment.  Artist Vadis Turner, who just launched her third solo exhibit in Louisville and is featured throughout Why Quilts Matter: History, Art & Politics, joined Executive Producer and Host Shelly Zegart in leading the discussion.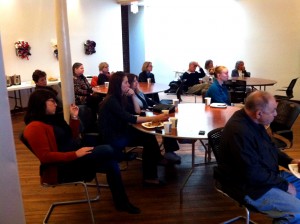 The conversation took twists and turns but the attendees agreed that the women behind art quilts and traditional quilts still feel a connection even though their techniques can often be very different.  The group also touched upon how quilting has come full circle.  Today, women quilt or take part in crafts not because they have to but because they enjoy it as a hobby and no longer feel the stigma attached to a traditionally "domestic" activity.
When we showed a clip of Vadis' from Episode 4: "What is Art" Vadis explained that something changes when you move a quilt from the bed to the wall – it becomes less utilitarian and more of a piece of art.  All in all, it was good to see such an engaged conversation on early Saturday morning.
Let's keep the conversation going!  Let us know your thoughts on quilts and art and/or female empowerment in the comments section below or visit us on Facebook!  To receive events invites in your area, be sure to join our mailing list.