A Quilted Bridge: Exhibit Spotlights Link Between Amish and Welsh Quilts
Lampeter is a lovely little town tucked away in the Southwest corner of Wales. Established as a market borough in medieval times, it is largely known nowadays as home to the University of Wales, Trinity Saint David and as a popular tourist destination. A must-see site on the itinerary of any textile lover is the Welsh Quilt Centre, opened in 2009 in the former Lampeter Town Hall building on High Street, and never has a visit been more timely than right now as–continuing through November 3–the Centre presents A Quilted Bridge: The Amish-Welsh Connection, a fascinating look at the similarities between these two historic quilting traditions.
This visually exciting and thought-provoking exhibit places, side by side, examples of stunning antique American Amish quilts and glorious early geometric flannel patchworks from Wales, inviting the viewer to draw his or her own conclusions about the relationships between the two. The question is posed on the Centre's website: "Two communities, Welsh and Amish, both independent, non-conformist, plain-living people, arrived in America on the immigrant ships at much the same time. They settled and, in Pennsylvania and Ohio, became neighbours. Are the similarities in their quilt designs due to influence or just coincidence?"
The driving force behind the exhibit–and the Centre–is Jen Jones. Jen has been buying, selling, and collecting Welsh quilts for more than thirty years. Her obsession with quilts was triggered by those in her family's home in Massachusetts, but it was not until she arrived in Wales in 1971 that this obsession came into its own, and she has since acquired a deep knowledge and understanding of the art and craft of Welsh quiltmaking.
When asked how A Quilted Bridge came to be, Jen explains, "From the time I arrived in Wales in 1971, and saw my first flannel geometric Welsh patchwork, I had been impressed by how similar some of the designs were to those found in Amish quilts I'd seen in Pennsylvania. It did occur to me that some of the Welsh ones predated the first recorded Amish quilts (I believe that was 1869). When Dorothy Osler began researching the subject, I was intrigued. As her book Amish Quilts and The Welsh Connection neared completion, I felt a comparative exhibition was a great idea. It is my hope that visitors will draw their own conclusions having viewed A Quilted Bridge, and whatever they are, I would like to think the artistry within the two traditions will be relished and remembered."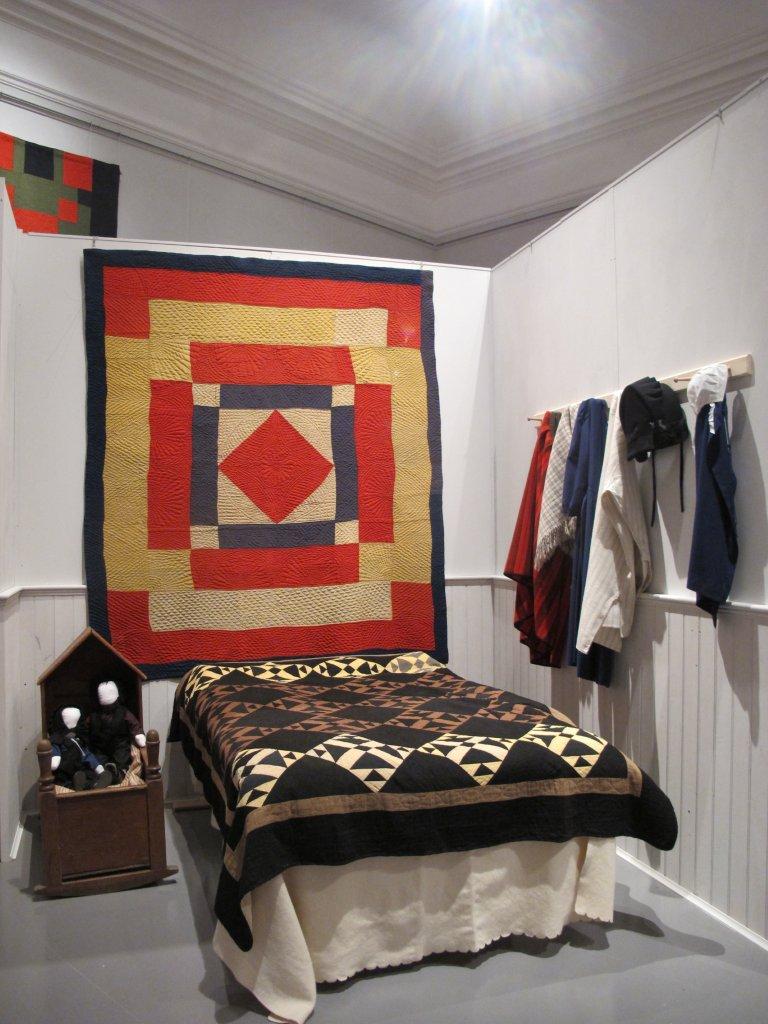 The Welsh Quilt Centre  is open Tuesdays to Saturdays, from 11am to 4:30pm. Public holidays vary, so please contact the Centre about specific dates. Admission to the exhibition is  £5.00 (approximately $8) for adults and £2.50 (approximately $4) for students. In addition to enjoying the galleries, you'll want to allow time to browse the Gallery Shop and to check the schedule of quilt-related course offerings. The Centre's website includes helpful links for places to enjoy a meal, spend the night, and add to your tour while you're in the area.
Thanks to Jen Jones and her staff for providing the beautiful images and for their assistance in preparing this post.