The landmark nine-part documentary series - a fresh, relevant exploration of quilts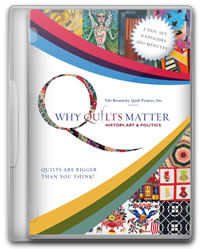 Produced by:
The Kentucky Quilt
Project Inc.

Format: NTSC

Number of discs: 2

Rated: NR (Not Rated)

DVD Release Date:
August 1, 2011

Total Run Time:
250 minutes (individual episodes average approx. 27 minutes)

Extras:
20 minutes of bonus features

Languages: English

Subjects: History, Art, Textiles, Political Science, Material Culture, Women's and Gender Studies

Aspect Ratio: 16.9

Why Quilts Matter: History, Art & Politics
DVD with Public Performance License*
To purchase the Why Quilts Matter: History, Art & Politics DVD set with public performance license, please use PayPal or submit the form below to process your order with an alternative method of payment.
*The term of the public performance license is for the life of the DVD.
Option 1 - Purchase via PayPal
| | |
| --- | --- |
| Universities and Colleges: $275 | |
| Public Libraries: $99 | |
Option 2 - Other Methods of Payment
To pay by check or money order, please complete the contact form below or download and complete this order form, and we will be in touch with you to work out the details of your order. If you need to submit a purchase order, please contact us through the contact form.
Shipping Information:
Within the U.S.: $5.95 for one or two DVD sets
International: $11 for one or two DVD sets
Contact us for shipping charges if ordering more than two DVD sets
Please allow 7-10 business days for shipping within the US and 15-20 business days for international delivery.
No returns / No exchanges
KY orders are subject to 6% sales tax
The Federal Copyright Act (Title 17 of the U.S. Code) governs how copyrighted materials, such as movies, may be used. Neither the rental nor the purchase of a copy of a copyrighted work carries with it the right to publicly exhibit the work. This legal requirement applies regardless of whether an admission fee is charged, whether the institution or organization is commercial or non-profit, or whether a federal or state agency is involved. Bars, restaurants, private clubs, prisons, lodges, factories, summer camps, public libraries, daycare facilities, parks and recreation departments, churches and non-classroom use at schools, universities and libraries are all examples of situations where a public performance license must be obtained.