A New Generation of Quilt Collectors – by Bill Volckening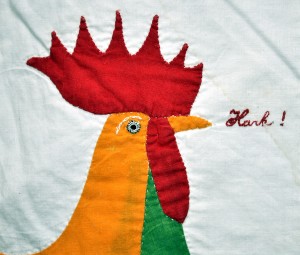 Around 9:00AM on November 19th, 2009, Julie Silber posted a picture of a sensational album quilt on her Facebook page. It had an embroidered name, Hannah J. Swin, and initials and date, 1868, done in cross-stitch. In the center block was a rooster and the word "Hark!" embroidered in red, next to its beak.
I was checking out the Facebook news feed, sipping my first cup of coffee of the day when it popped up. The moment I saw it, I fired off an e-mail to Julie. "Is it available?" I asked. It was, and before I poured my second cup of coffee, I'd bought myself a quilt. Talk about immediate gratification!
The information age has spawned a new generation of quilt collectors. How we buy quilts has changed dramatically in just the last ten years. The search for quilts used to require pounding the pavement and a lot of digging. Now it's more like going shopping at the mall. We've gone from hunting quilts in antique shops, shows, and auctions, to surfing the internet and scrolling through listings on eBay.
Undoubtedly the largest quilt shop in the world is eBay. A recent eBay search using the words "antique" and "quilt" produced 5422 listings. A similar search for "vintage quilt" produced 11,726 results. Starting prices range from less than a dollar to five figures. Given the huge selection, there's always something to be found on eBay.
With so many people selling quilts, the sellers don't always know what they have, resulting in many bargains. That's exactly how my collection has grown. Before eBay, I had about a dozen quilts. In the last 11 years since discovering eBay, my collection has grown to about 200 quilts.
I've had a field day, especially during the recession as quilt prices plummeted. One of the best bargains I've come across in a long time is a quilt I bought in the last year. It is a Bicentennial thirteen star American flag quilt, with prairie point edge finish. The quilt came from an eBay seller in Fort White, Florida, and I won it for just $9.00. Shipping to Oregon was more than the cost of the quilt.
Part of my success on eBay is in knowing how to bid. I'm what they call a "sniper," but don't worry, I don't use a gun. Auction sniping is the practice of placing a bid at the last possible moment of a timed auction, giving others no time to bid. It is often done using insanely high bids, taking into consideration that the winning bid will automatically come in at a small increment higher than what the next highest bidder had bid.
For example, if I'm bidding on an item that's $25, I would place a bid over $100 knowing I'd win the auction for just over $25 if nobody else bid. Less experienced bidders would be more likely to bid in much smaller increments, so if someone came along and bid $30, I might win the item for $31. It's always a gamble, because I could be going up against other snipers, but I've gone up against some of the best in the business and won most of the time.
Aside from eBay, a growing number of quilt dealers have online stores, and Live Auctioneers offers online bidding on auctions around the world. Etsy allows quiltmakers to market and sell their own quilts, creating a new wave of collectible quilts. And charitable organizations such as the Alliance for American Quilts and the Alzheimer's Art Quilt Initiative, which recently received its 10,000th donated quilt, offer hundreds of small, newly made quilts each year.
The thrill of the hunt may not be the same as it once was, but it's still thrilling! There's nothing like the feeling of adrenaline during the closing seconds of an auction, when I'm really excited about a quilt and about to enter a sniper bid. The old school collectors might call me a young whippersnapper with a fancy computer, speaking in tongues about some high-tech gobbledygook. There is a common ground, though. We all share the same sense of excitement about discovering quilts.
Bill Volckening
Portland, Oregon
http://www.billvolckening.com
Image Credits:
Photos courtesy of Bill Volckening.