Making a Quilt – by Bill Volckening
It's National Quilting Month, and this month I thought I'd write about making a quilt. When I first started making small quilts about a year ago, most people were very surprised. People know me primarily as a collector, and I've been quoted as saying I can't thread a needle. Sewing definitely doesn't come naturally to me, but I have an art background, so that helps.
I'm especially proud of my latest quilt, "Wild-Eyed Susans", my entry in the 2013 Northwest Quilters Annual Guild Challenge. There is a new theme for the guild challenge each year, and this year's theme was Flower Power. When it was first announced, I thought, "That sounds like fun!"
I was originally inspired by another challenge called "Everything Old Is New Again" at the Latimer Quilt and Textile Center in Tillamook. The challenge involved making new quilts using old materials, specifically blocks or pieces of quilts. The challenge quilts were on display during Mary Kerr's recent Vintage Revisited exhibit, but unfortunately, I didn't get mine done in time.
The saga of "Wild-Eyed Susans" began many years earlier, when I bought an old, moth-eaten stumpwork quilt top on eBay. Stumpwork is also called chenille, plushwork, and tufted work, and it involves stitching yarn to ground cloth around a template and cutting away to create tufted areas. Many were made using a metal star template.
At first, I thought I'd restore the old top, but soon realized it just wouldn't be feasible or cost effective. There was too much moth damage to the wools. The top sat on a shelf until last fall, when I was fortunate to get a replacement spot in the Folk Art Quilting Retreat in Sisters, Oregon.
Sisters is a bucket-list destination for quilt lovers, and the retreat would be devoted to embellished wool quilts, the specialty of instructor Sue Spargo.
I was a little worried. There was a long list of materials, and I didn't have a lot of money to spend. The techniques would involve fancy embroidery and it was my first sewing class since 7th grade Home Economics with Mrs. Schweitzer, which was a disaster. I had to figure out my plan ahead of time.
Normally I would shy away from cutting up and repurposing a vintage piece, but if Vintage Revisited taught me anything, it was that vintage materials could be thoughtfully and successfully used to create new work. My quilt would be a meaningful tribute to the original maker's work.
Even though upcycling seemed like an efficient way to go, this quilt was a lot more work than I thought it would be. I'd never done an appliqué quilt, never worked with wool, and never hand quilted.
First, I machine stitched a ground using three wools. Two came from clothing found at Goodwill, and the other came from a fabric store. I cut out the stumpwork stars following the shape of the design, attached pom-poms in the centers using a needle and thread, and appliquéd them to the ground. They would be flowers rather than stars.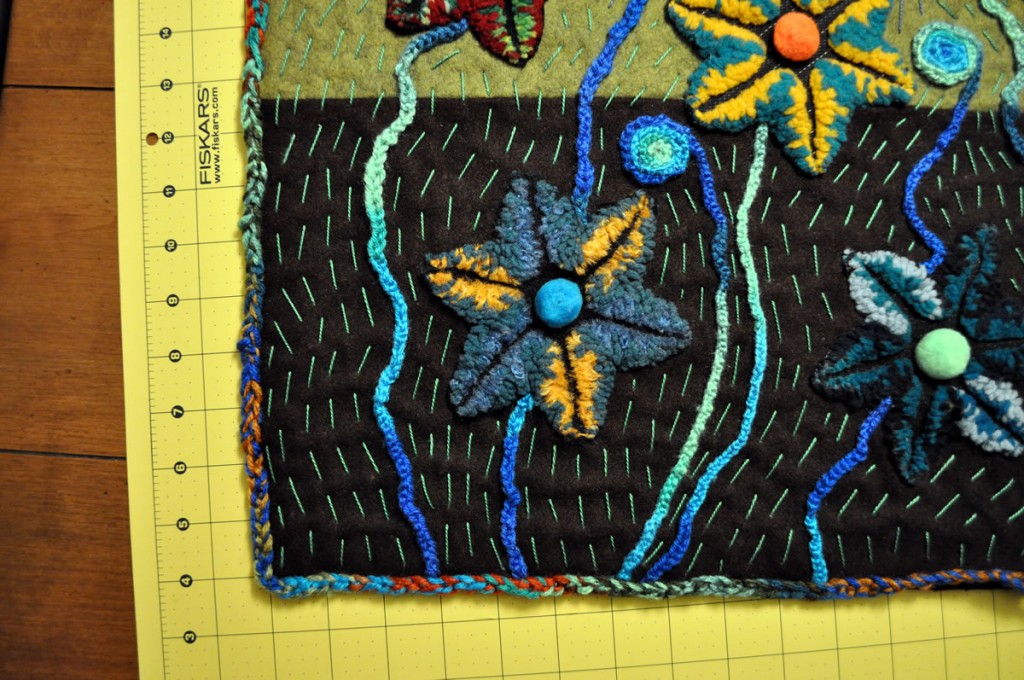 As the design came together, I made vines with braided, variegated yarn, and appliquéd them to the top. Feeling playful, I made some look like fiddleheads. For the quilting, I was inspired by Mary Bywater Cross. Mary makes wonderful quilts from wool, and she quilts them with pearl cotton thread using big, even stitches in simple, but beautifully planned patterns.
Since I'm nowhere near as skilled or experienced as Mary, irregular and roughly vertical stitches seemed like a reasonable way to go. Even that was a chore, especially the first half, which I did without a thimble. After I finished, the directional, dashes of color throughout the quilt seemed like a tip of the hat to van Gogh. I liked it. My garden scene was meant to be fanciful, even if it's not botanically plausible.
Although I struggle with sewing, it was worth the effort to make the quilt. I'm especially happy to be participating in my first guild challenge. The quilt will be on display at the 39th Annual Northwest Quilters Show at the Portland Expo Center in April. For more details, visit the guild website: http://www.northwestquilters.org.
Bill Volckening
Portland, Oregon
http://www.billvolckening.com
Photography by Bill Volckening