Why Quilts Matter –
Question & Answer with Tim Latimer
In this series we have explored Why Quilts Matter with machine and free motion quilters, so it's only natural we turn to look the art of hand quilting. Gaining in popularity and made even more popular by the brilliant color pallet of pearle cotton embroidery floss, Tim Latimer is a standout in both his use and technique of hand quilting. Tim has been hand quilting since 2006 and his quilts have appeared in many AQS shows. In 2013 his "Tree of Life" quilt took the Best Hand Workmanship Award at Grand Rapids AQS, a pretty remarkable accomplishment for a man with a degree in horticulture and a 'day job' as a Certified Florist and a Floral Design Instructor for the Michigan Floral Association.
When he is not tending his own extensive gardens, Tim collects vintage and antique quilt tops and hand finishes them. His goal is to preserve the fine art of hand quilting, and he is most ably assisted by "the best dog in the world," Teddy. Those familiar with Tim's blog and Facebook page know Teddy well; he appears elegantly dressed in almost every picture and can be spotted in some of Tim's hands-on videos where he demonstrates his use of his invention, the "thumble" (a pseudo copper thimble worn on the thumb) and illustrating some non-traditional techniques. "That is the Tim way of hand quilting…I am sure that it is not the best way, or the right way, or the only way, but it is my way!" he happily acknowledges.
Like many of us find when we have finished piecing a quilt top, we face an even bigger job of determining exactly how and where the quilting will happen. The options can be overwhelming, so we asked Tim about this very topic.
How do you determine whether the piecing or the quilting will be the standout factor in a quilt? Should one outweigh the other?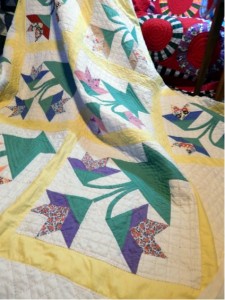 Many of my quilts are made with vintage or antique quilt tops. In some cases the fabrics outstanding and the piecing is beautifully done and I do not want to distract from that so in these cases I want the piecing to be the standout.
This quilt that I am working on now is pretty well made so I am doing a simple grid design on the white and echo quilting in the baskets. The quilting in this case highlights the piecing.
Sometimes the piecing is very inaccurate. I want the quilting to distract from the inaccurate piecing so an overall design (like Baptist fans) will "hide" the less than perfect piecing as in this quilt.
What issues do you take into consideration when deciding to purchase a quilt or quilt top?
I am an equal opportunity buyer. I have quilt tops from 1850 to 1980 and every color and style. I go in spurts in my selections. I was first attracted to tops from the 30's and bought primarily those, later it was 1800's and now I am attracted to the 60's and 70's.
My only real consideration is whether I think it will make a great finished quilt. Condition is important but not the primary consideration. Most of the tops I purchase need repairs in order to get them ready for hand quilting. I love two tops I recently purchased, but love them for different reasons. They are nearly 100 years apart in age but I think both will make great quilts and deserve to be finished.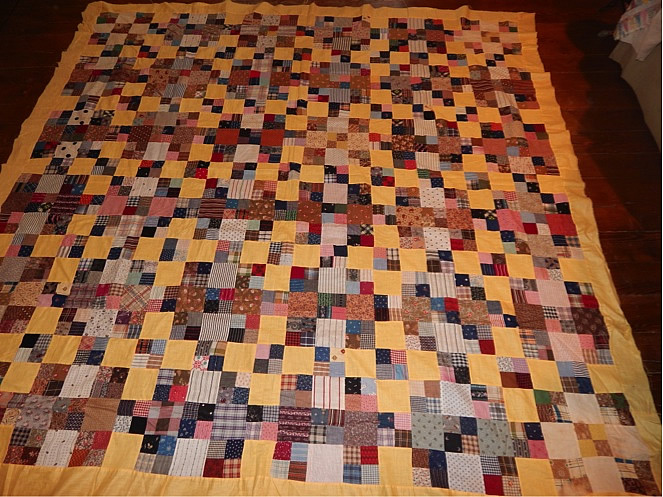 How important is handwork versus machine work in both antique quilts and contemporary quilts?
I think it is very important that hand quilting does not become a lost art. Machine quilting can be very beautiful and can produce designs that I could not do by hand. Technology has allowed quilt artists to produce some outstanding works and at a much faster rate. Hand quilting for me, is a different endeavor. Getting it done is almost secondary to the process itself. It is a relaxing, almost meditative process. I love the sound of the needle poking through the fabric and the swish sound as the thread is pulled through. I can hand quilt for hours and be lost in another world.
I know that machine quilting goes back as far as the sewing machine, but I prefer hand quilting antique quilt tops. My approach is to try to make the finished product look like the same person made it all. Match the quilting to the top and imagine how the maker of the quilt top would have done it if she (he) could.
In addition to hand quilting vintage and antique tops I make new quilts and hand quilt them as well. I find hand quilting a top that I made to be a very different process because I do not have to imagine how the original maker intended it to be finished.
I recently finished a whole cloth quilt that I hand quilted with perle cotton thread. Historically that would not have been done, but hand quilting does not have to be stuck in the 1800's – we can explore new methods and designs.  (Photo of the quilt below.)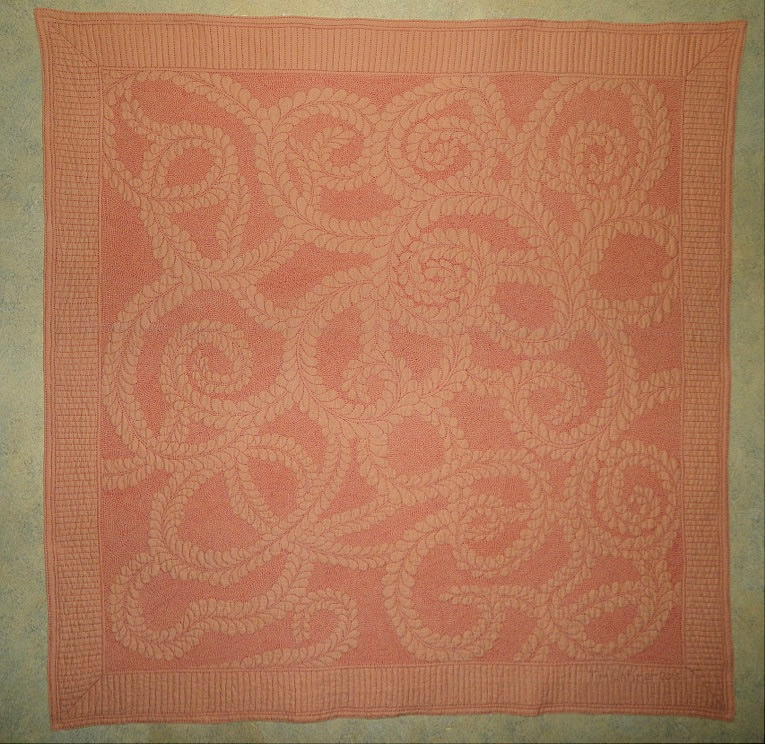 I have just finished hand quilting a very traditional whole cloth quilt with feathers and wanted to do a modern take on that theme.  (Photo of the quilt above.)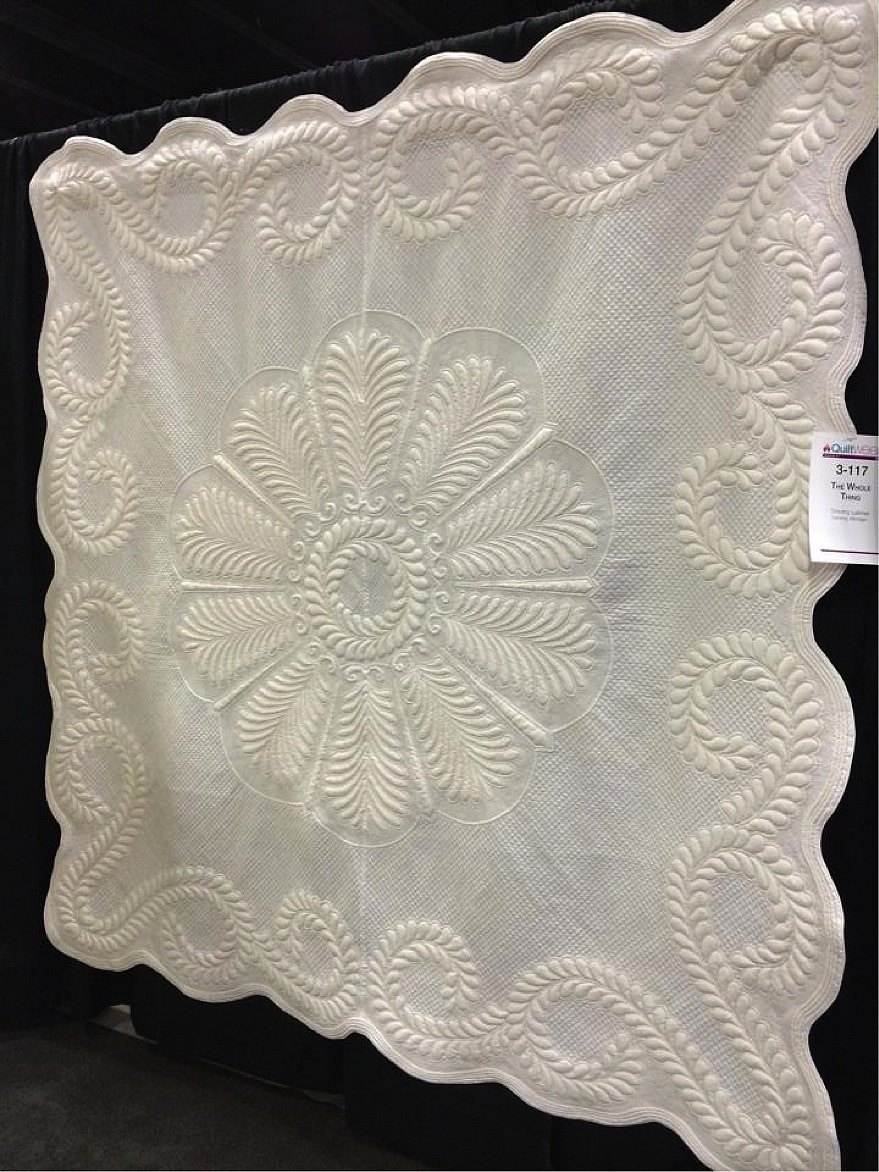 Among your many talents is your notable skill at hand quilting. What would you tell a quilter who has never tried hand quilting?
Try it! I think many people are afraid to try because they feel that it won't be good enough, that they won't have enough stitches to the inch that the quilt police won't approve. I don't count stitches or worry about perfection. If I am happy with the quilt then I have done it just right.
What is next for you?
I have over 200 vintage and antique quilt tops to hand quilt so I never have to wonder what it next! I blog about each quilt as I work on it, you can follow along with the progress on my blog and my Facebook page.
More About Tim Latimer
Check out this video of Tim's "unconventional" method of hand quilting – it might just be the thing to get you started. Tim does trunk shows and lectures on quilts, and offers a wonderful variety of resources for quilters on his website, TimQuilts. Bonus – Teddy the wonder dog is a prominent and entertaining part of all things Tim Latimer!
Photos in this post are courtesy Tim Latimer (www.TimQuilts.com).