Why Quilts Matter – Question & Answer with Kimberley Jolly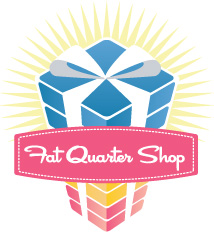 If you have ever purchased thread, patterns on fabric online, the odds are you have at The Fat Quarter Shop. As a three-month newlywed in 2003, Kimberley Jolly kept her day job (as a CPA) but started "as a hobby, really" her night job packing orders and shipping from her new website. Only one year later she was able to quit her day job, and along with her husband and co-owner Kevin (who also quit his day job!) the two embarked on building a wildly successful and popular online business. They also built a family –daughter, Emma (inspiring It's Sew Emma), twin sons and later, another son.
Along with her numerous other duties, Kimberley has the enviable job of selecting fabric lines, creating patterns, and overseeing the writing and production of her company blog. When GenerationQ asked her to name one of the standout industry trends of the past years, she replied, "I think just the amount of fabric that's coming out. The manufacturers are producing more fabric than ever before. As a shop, there's more to choose from. They are producing 20-30 percent more fabrics. … It's a good thing for the consumer because they have more to choose from."
Since we've already spoken with quilters, designers and collectors, we jumped at the chance to ask Kimberley some of the questions found in the Why Quilts Matter: History, Art and Politics Discussion Guide and get a perspective from the retail business point of view.
Do you think the large color blocks and 'negative spaces' found in contemporary quilts were inspired by the Gees Bend quilts?
I think so, even if indirectly. The Gee Bend quilt images are so strong and unique; they make an instant impact on a viewer. These quilts surely inspired one quilter, who inspired another, and so on. Large color blocks and negative space are now such strong trends and it is very fun to see the similarities and ties to historical quilts.
What do you see as the future of the quilt marketplace? Will traditional patterns remain and important staple? Will "modern" or "art quilts" come to dominate?
I believe traditional patterns will always remain an important staple. We see more and more modern fabrics used in traditional patterns as a way to add freshness to traditional quilt patterns. It is a great way to blend the old and the new. Modern quilt patterns will definitely stay a trend for the younger quilter. The Modern quilt movement has been really beneficial in that it allows quilters to express themselves in new ways and has inspired a new generation of quilters. Modern quilts and quilt patterns are definitely here to stay, but there will always be room for the traditional as well!
What factors do you think most impact quilting fads or trends?
We often see quilting trends dominated by popular colors or prints seen in fashion. Popular fashion trends definitely influence quilt and fabric designers, and you see the styles, prints, and colors trickle from Fashion Week to Quilt Market. The bold chevron print, hot colors like emerald and orchid, and stripes all trickled from fashion to quilting and these trends are now strong in both arts.
What is next for you?
We are busy filming and publishing a number of YouTube videos and tutorials, publishing new It's Sew Emma Quilt Patterns, and new books with Lori Holt of Bee in my Bonnet. We plan to expand our free tutorials on YouTube, providing our customers with free tips and tutorials to expand their skills. We are so excited about our future YouTube videos! Our It's Sew Emma pattern line keeps us busy, with new releases for each Quilt Market and plenty of projects in between. Lastly, we are releasing a new book with Lori Holt this spring called Great Granny Squared. We love her vintage style. It is going to be a busy year!
More About Kimberley
For the latest in fabric releases, color trends and free quilt patterns, follow Kimberley at her blog, Jolly Jabber, or on The Fat Quarter Shop Facebook page. For breaking news and up to the minute shop specials, find Kimberley on Twitter @FatQuarterShop.