Why Quilts Matter –
Question & Answer with Judith Content
While many quilters read blogs to learn about what other quilters are doing (and how they are doing it), we here at Why Quilts Matter willingly confess our love affair with collecting quilt images. Some say there is no more powerful tool or source of inspiration than seeing beautiful quilts either in person, in a book, or on the web. The Why Quilts Matter Image Resource Galleries are heavily used and perused by quilters who collect, save and pin them to their favorite Pinterest boards – and on to ours, which you can visit here and follow!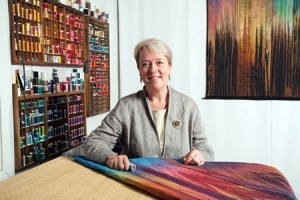 Among the hundreds of images featured on the Why Quilts Matter: History, Art and Politics DVD are some representing the creative work of Judith Content, who shares her thoughts on imagery:
"Like the Japanese haiku my work explores the essence of an image, a memory, or a moment in time. I find inspiration in nature's waterways, from coastal estuaries to desert pools. I am especially drawn to the haunting beauty of fens and marshes and the relationship between light and shadows as atmospheric changes abstract the landscape."
Judith, a fiber artist in Palo Alto, California, received a B.F.A. from San Francisco State University with an emphasis in textiles. She utilizes a contemporary interpretation of the Japanese dye technique, Arashi Shibori. Her hand-dyed, quilted, and pieced silk wall pieces are featured in galleries and museums all across the United States and Japan. We spoke with Judith about the importance of images and technique in the textile arts.
How important is good technique to art?
I feel that good technique is essential to art, whatever the medium, be it painting, sculpture, jewelry design, or textile art. Good technique is strengthened by talent but that's not enough on its own. It is learned by observation and fine-tuned by practice. Artists who apply their chosen techniques skillfully are best able to communicate the message or meaning of their work. Several of my artist friends are moving away from textiles to explore new mediums such as glass and painting. I admire their sense of adventure and trying something new. I especially admire those who allow themselves the time to experiment and to learn from their mistakes.
Is there a balance when it comes to technology and quilting? Can you have too much technology in the quilt making process?
Technology is a tool like all others in the making of art. Use it with originality, imagination and skill and your work will sing.
Many textile artists believe they are held to a different standard from other artists. Do you agree or disagree?
Some of the most important components of successful art to keep in mind are: the effective use of color, composition, line, scale, design, texture and shape. No amount of surface embellishment can cover-up a poor composition or weak design. Successful use of these principles can empower an artist to construct work with a lasting visual impact. However, following the rules of color, composition etc. is only the beginning. Other important elements should be considered too, things that convey the heart and soul of the artist: content (subject matter) originality (as opposed to being derivative) and intuition (insight). In Design Language, author Tim McCreight has some interesting things to say about intuition I'd like to share: "We can't improve our intuition, but we can improve our ability to listen to it and to trust it…it is the charming stumble, the rebellious bellow, the step into the dark."
What is next for you?
What is next? Next is now! I still want to explore the mysteries of the arashi-shibori dye technique, and combine these silks into ever more powerful and evocative compositions. Paint walls inside and outside beautiful colors, paint more buttons! I also collect – outside, Japanese maples, succulents and ceramic sculpture. Inside, ethnic and contemporary textile art, ginger jars, purple glass, colorful plates, whisk brooms, heart shaped rocks. I'll be traveling the world in search of inspiration, ideas and new materials to work with. I work in my studio any time of the day or night!
More About Judith
Judith is currently on the Board of Directors of the Studio Art Quilt Association (SAQA), and served three years on the board of the Textile Arts Council of the Fine Arts Museums of San Francisco, CA. She has served several terms on the Foundation Board of the Palo Alto Art Center in California where she continues to volunteer.
Learn more about Judith's special shibori dying techniques in her featured segment on Alex Anderson's HGTV show, Simply Quilts. To see more of her work visit the Jane Sauer Gallery in Santa Fe, New Mexico. Her work can be found in the following publications: "The Art Quilt" by Robert Shaw, "The Kimono Inspirations: Art and Art to Wear in America" by Rebecca A.T. Stevens, "Memory on Cloth: Shibori Now" by Yoshiko I. Wada and "Artwear: Fashion and Anti-Fashion" by Melissa Leventon.
Photos courtesy Judith Content.
Top image:  Button necklace (detail).