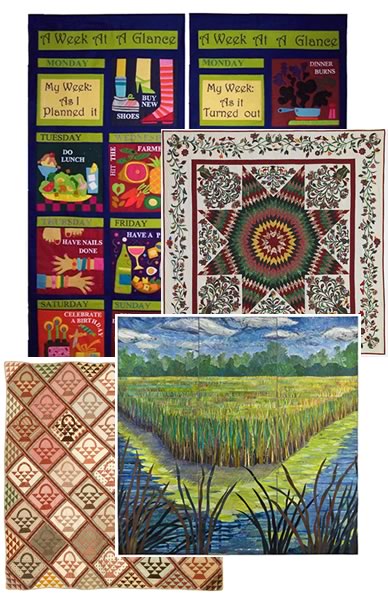 "This series makes me proud to say that I'm a quilter. I no longer need to explain myself, or justify the importance of what I do."
- a quilter, upon viewing Why Quilts Matter: History, Art & Politics
Welcome to Why Quilts Matter: History, Art & Politics, home base for the nine-part documentary series that is changing the way people are thinking about quilts.Why Quilts Matter made its DVD debut on September1, 2011...and has been creating buzz ever since with its unprecedented in-depth exploration of the diverse, kaleidoscopic world of quilts and "quilt culture."
Dry history? No way! Whether your passion is making quilts, collecting quilts, talking about quilts, women's art, quilt or women's history, you'll find much to love, to think and to talk about in Why Quilts Matter.
The two-DVD set includes all nine episodes, approximately 26 minutes each, plus seven bonus features, for a total of 250 minutes of informative and entertaining programming. Hosted by long-time quilt collector and author Shelly Zegart, the series was created by The Kentucky Quilt Project, Inc. and profits go to further new quilt-related study and projects.
We hope you'll take the time to venture further into our website.
• Start by viewing the series trailer. It will give you a good overview of what Why Quilts Matteris all about.

• Next, click on EPISODES. Here you'll find descriptions and trailers from each episode and a listing of the seven bonus features available only on the DVD.

For a complete directory of site features, click here. You'll find a brief description of the fabulous features tucked behind every tab on the navigation bar.
We're excited to announce that Why Quilts Matter is moving on to phase II thanks in part to financial support provided by sale of the series on DVD. (Yes, you helped make this happen!)
AVAILABLE NOW!
Why Quilts Matter: History, Art & Politics Discussion Guide is a comprehensive and group-friendly companion guide designed to help you continue the conversation about the landmark, nine-part documentary series.
Available as a stand alone 56-page full-color version ($12.95 plus shipping), as part of a specially priced DVD/Guide package ($45.95—save $6.95), or as a free electronic download, this fabulous new resource includes thought-provoking questions geared to each episode and designed to stimulate animated post-viewing discussion. The Why Quilts Matter: History, Art & Politics Discussion Guide is perfect for quilt and fiber-arts groups, libraries, classrooms, and museums. You can use the information in the "How to Host" section to organize and launch your own viewing and discussion group.
Help us keep the discussion going!
The Guide is produced by The Kentucky Quilt Project, Inc.,
a 501 (c) (3) not-for-profit organization founded in 1981.
Photos in the collage, top-left, top to bottom: My Week at a Glance by Jean Ray Laury (2005); Indiana Starburst by Judy Laval Morton (2008), photo by Michael Wheatley Camera Arts; Wisconsin Wetlands II River Bend by Sue Benner (2007), collection of John M. Walsh, III, photo by Gregory Case; Baskets and Thousands of Triangles - Maker unknown c. 1850, photo by Joe Ofria, New England Quilt Museum, Item number 1999.13-4498, Lowell, Massachusetts.
Delve into the inner workings of the art world, explore behind the scenes in the marketplace, and journey into the complicated, kaleidoscopic world of quilts.
Explore two centuries of history.
Watch as women gain power from their handiwork.
Consider the nature of art itself.
For an inside look at a highlight from each of the nine fascinating episodes of the documentary
Why Quilts Matter: History, Art & Politics
, please click on the episode listings below.