Why Quilts Matter: History, Art & Politics Premiers on Kentucky Educational Television (KET2) on Sep 5, 7PM
Quilts may seem as American as apple pie but they did not originate in America!  Quilting began as an ancient technique used in places like China, Turkey and Egypt.  Quilts, as we know them, originated in England in the 17th century to form decorative bed covers.  However, over the years, quilts have veered away from the traditional three-layer sandwich seen at the end of a bed.  Moving away from the usual squares and designs to a blend of fabric and contemporary designs, quilts are viewed as pictorial hangings that cover the walls of art museums and galleries.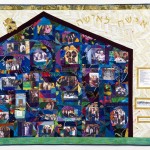 I hope this episode shows that quilts mean something different to everybody and there are as many definitions as there are observers.  Matt Arnett added valuable insight when he said, "You could have a documentary called 'A Quilt is…' and have 500 people say what is it and it'd be 500 different answers."  History, family, community, patience, work, beauty… what do quilts mean to you?
– Shelly Zegart
→ Find out more about Episode 1, "Quilts 101-Antique and Contemporary"
Image Credits:
Top: Hand Tools,  B. J. Adams. Hand-dyed and commercial cotton, silk and wool, cotton, poly and metallic threads, acrylic paint. 46″ x 75″. Collection of John M. Walsh, III. www.bjadamsart.com
Left, top: Ohio Star (detail), Maker unknown (1860-1880). Cotton or calico, muslin. 95″ x 106″. Item number 1983.157, The Charleston Museum, Charleston, South Carolina. www.charlestonmuseum.org
Left, bottom: Woman to Woman, Adrienne Yorinks (2009). 80″ x 60″. Photo by D. James Dee. www.adrienneyorinks.com